This is a hidden post summary. It displays in the editor only.*
Deutsche Familienversicherung
Digitalization has been drastically changing our lives. Today, we use digital devices and technologies for almost everything – from ordering food and shopping online to communicating with friends and family and managing our finances. As our lives become more and more digital, it's only natural that we would also want our insurance to be digital. With this vision in mind, Deutsche Familienversicherung (DFV) was founded in 2007. The company is headquartered in Frankfurt am Main. Their service portal offers fully digitalized insurances such as supplementary dental, supplementary health, supplementary long-term care, and accident and property insurance.
In 2018 DFV became the first listed InsurTech company in Europe.
As an agency for digital transformation, we began our journey together with DFV to overcome their challenges by developing a digital marketing and brand strategy with the aim to improve the digital world of tomorrow.
Our Approach
To approach the challenges we conducted brainstorming sessions in which we defined our goals, benchmarks, and target groups. We outlined the various unique selling points that would act as drivers of the campaign and developed the marketing strategies accordingly.
Since 2019 we create marketing campaigns for all services offered by DFV. Our campaign keeps evolving with DFV services and offers, but their slogan, 'Simple. Reasonable' ("Einfach. Vernünftig") is always at the center of each campaign. The idea is to make sure that the tone of the marketing campaign reflects insurance in a positive and uncomplicated light. Lastly, we promote the campaigns in various formats on cross-channel platforms to increase brand awareness.
The Result
Dental Insurance campaign: "What's your smile worth?"
Regarding dental insurance, a cross-channel campaign under the motto "What's your smile worth to you?" was enabled. The tagline 'What's your smile worth' was developed with the aim of showcasing the importance of dental insurance in as few words as possible. The focus of this campaign was to reflect positivity and simplicity in getting dental insurance.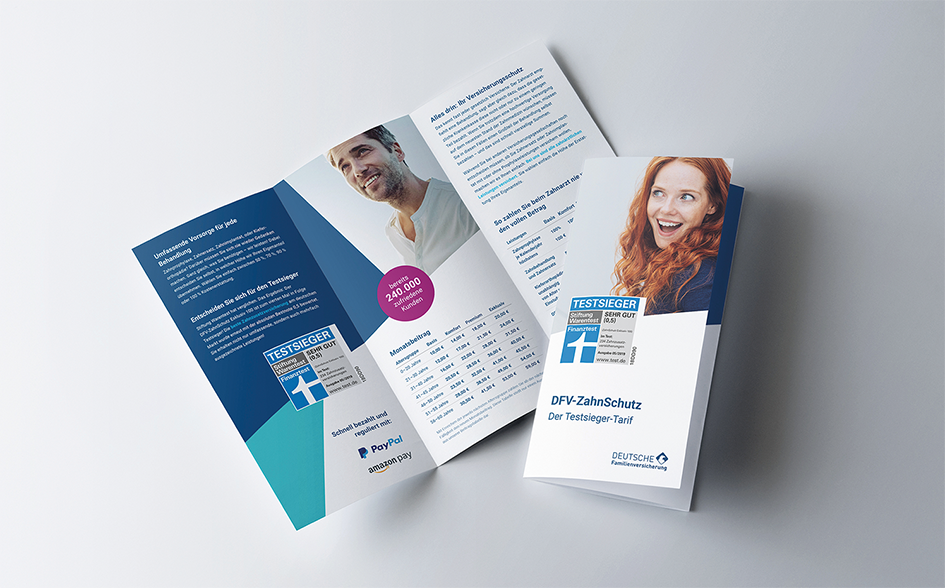 Animal Health Insurance campaign: "Fully relaxed. Fully Insured"
The second campaign that we developed was an Animal Health Protection Campaign with the slogan "Fully relaxed. Fully Insured." The aim of this campaign was to highlight how simple and sensible it is to get DFV insurance for pets.
In order to achieve maximum and optimal coverage, we worked together with DFV to define the various target groups for the campaign. The campaign's message, tone and delivery strategy were adjusted uniquely for each target group. We then ran the campaign on multiple platforms such as social media platforms, Youtube, and Google. For this, we used a wide variety of formats. For example videos, images, texts or emails.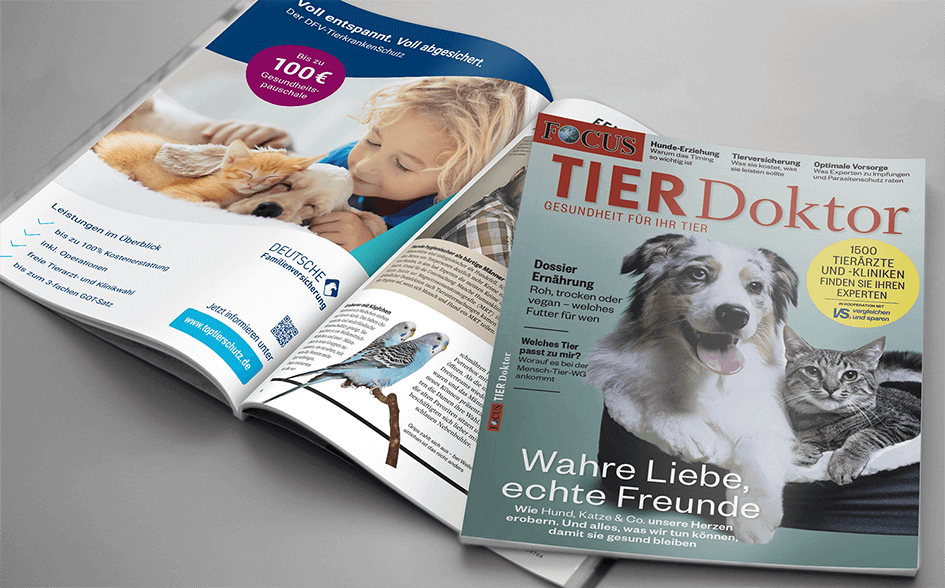 Accident Insurance campaign: Everything is a matter of attitude/setting"
The latest campaign that we developed was an accident insurance campaign with the slogan "Everything is a matter of attitude/setting" (Alles Einstellungssache). The message of the campaign focuses on encouraging the target group to enjoy the summer or vacation to the fullest. To pursue all the activities that were not possible during the peak phase of the corona pandemic. Despite risky projects, you should always feel on the safe side, since situational accident protection can be flexibly and individually adapted to every situation.
The campaign focuses on two target groups, which could be divided into "adventurers" and "vacationers". It is played out in two phases (awareness & retargeting) in the form of carousel
ads, stories, reels, single image ads, videos in 3 different lengths (6 seconds, 15 seconds and 30 seconds) and responsive display ads. Facebook/Instagram, Pinterest, YouTube, Google, the DFV app and email marketing were used as channels.
Conversions of the application page
2.600