This is a hidden post summary. It displays in the editor only.*
Fischer Wolle is a specialist mail-order company for hand and machine knitting wool. It was founded in 1946, and since then provide its customer with qualitative products and services. Their extensive range includes all products related to handicrafts.
SUNZINET became Fisher Wolle's full service partner in 2019 and our task was to develop and implement an online marketing strategy for the traditional company, that was founded 77 years ago.
The challenge
Wool and knitwear products are considered seasonal articles, which are in particular demand in winter. The particular challenge was therefore to position the range of products with the target groups in the off-season as well.
Our two main challenges were as follows: To enable and maintain the company's sales during the summer months. Increase Fischer Wolle's brand awareness and make the brand to be perceived as the first address for wool and handicraft articles in all seasons.
Our Approach
With a series of scoping and brainstorming sessions, we defined the goals, objectives and the target group of the marketing strategy. Our goal was to increase awareness among Fisher Wolle's target group and continuously increase sales during the summer months. We developed a cross-channel online marketing strategy together with the customer. In doing so, we took into account the various touchpoints along the entire journey of a customer. We enabled an integrated digital marketing strategy, with a focus on organic search, paid search and paid social campaigns.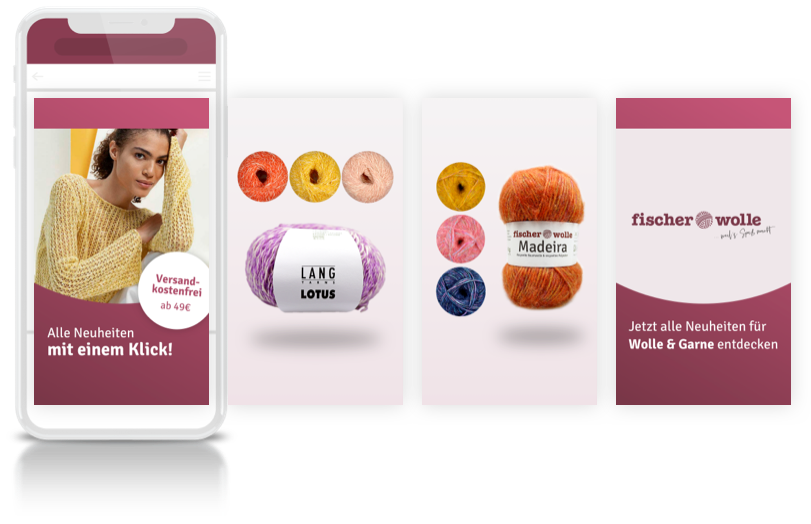 What we delivered!
Based on a holistic digital marketing concept for Fischer Wolle, we used a mix of different marketing channels.
We took over and optimized ongoing Google Ads campaigns. Based on the results such as keyword click-through rate, and search terms and phrases with good conversion rate, further campaigns were developed to continuously boost the overall conversion rate.
As the next step, we developed social ads on Facebook, Instagram and Pinterest. These channels were great to get potential new customers for Fischer Wolle. We researched and developed the profiles of different types of customers that Fisher Wolle addresses. This information was utilized on social media platforms to reach out to the various customer segments with targeted messaging. One customer profile that stood out was the customers who are interested in DIY (Do it Yourselves) activities. We quickly realized that they have good potential to increase Fisher Wolle's summer sales. Therefore, we optimized and effectively target this group with Pinterest, as Pinterest is the hub of DIY lovers.
We integrated a full-funnel strategy in the marketing campaigns so that the potential customers are addressed at the right time with the right message via the right channel throughout their entire customer journey. To reach the customers with relevant messaging, the ad portfolio is expanded and optimized through constant research, A/B tests and analyses.
Developing a sustainable marketing strategy is very important. Therefore we not only focused on reaching the customers with paid ads but also optimized Fisher Wolle's website for the Search Engine (SEO). Content such as blog texts, product descriptions and more were optimized so that Fisher Wolle can increase its brand presence across the internet.
The result
As a result of our marketing strategy, Fisher Wolle's increased its performance increased, gained new customers and retained its existing customers.
With our marketing campaign, Fischer Wolle was able to significantly increase sales, clicks, conversions and ROAS (Return on Ad Spent).