This is a hidden post summary. It displays in the editor only.*
Niedax Group:
Internal networking of 2350 employees worldwide
Services

Digital Marketing

Website Relaunch

Digital Workplace

Technology

Staffbase

Magento

React Native

PHP

Node.js

KPI

70 % der Mitarbeitenden nutzen das Intranet

Project Realized Year

2022
About Niedax Group
Niedax is one of the world market leaders in the design and manufacture of cable laying systems. For over 100 years, the name has stood for modern electrical installation. Decades of experience and future-oriented innovation have given rise to the globally operating Niedax Group, which today includes around 2350 employees in more than 30 countries worldwide. The company is still 100% family-owned. In cooperation with the client, we design the digital transformation of the company. In addition to digital marketing measures, branding and the website relaunch, we implemented an intranet. The technological conception of the Digital Workplace was accompanied by intensive change management methodologies.
The Challenge
Niedax's workforce is characterized by heterogeneity. The biggest challenge was networking the non-desk workers, who make up around 50 percent of the workforce. Consequently, an intranet had to be implemented that would enable company-wide exchange. The focus was on uniform, global and at the same time target group-specific and local communication.
Our Approach
SUNZINET provided holistic support to the Niedax Group. The individual brand strategy was developed in partnership with the customer. To ensure an efficient flow of information in the heterogeneous group, Staffbase was woven into the Digital Workplace as an employee app. The change management process also took place with the support of SUNZINET. An action plan was created for strategic implementation support. Among other things, the added value of the intranet was communicated on a landing page and in a newsletter. In order to stimulate the use of the new platform, an employee quiz was held shortly after the launch.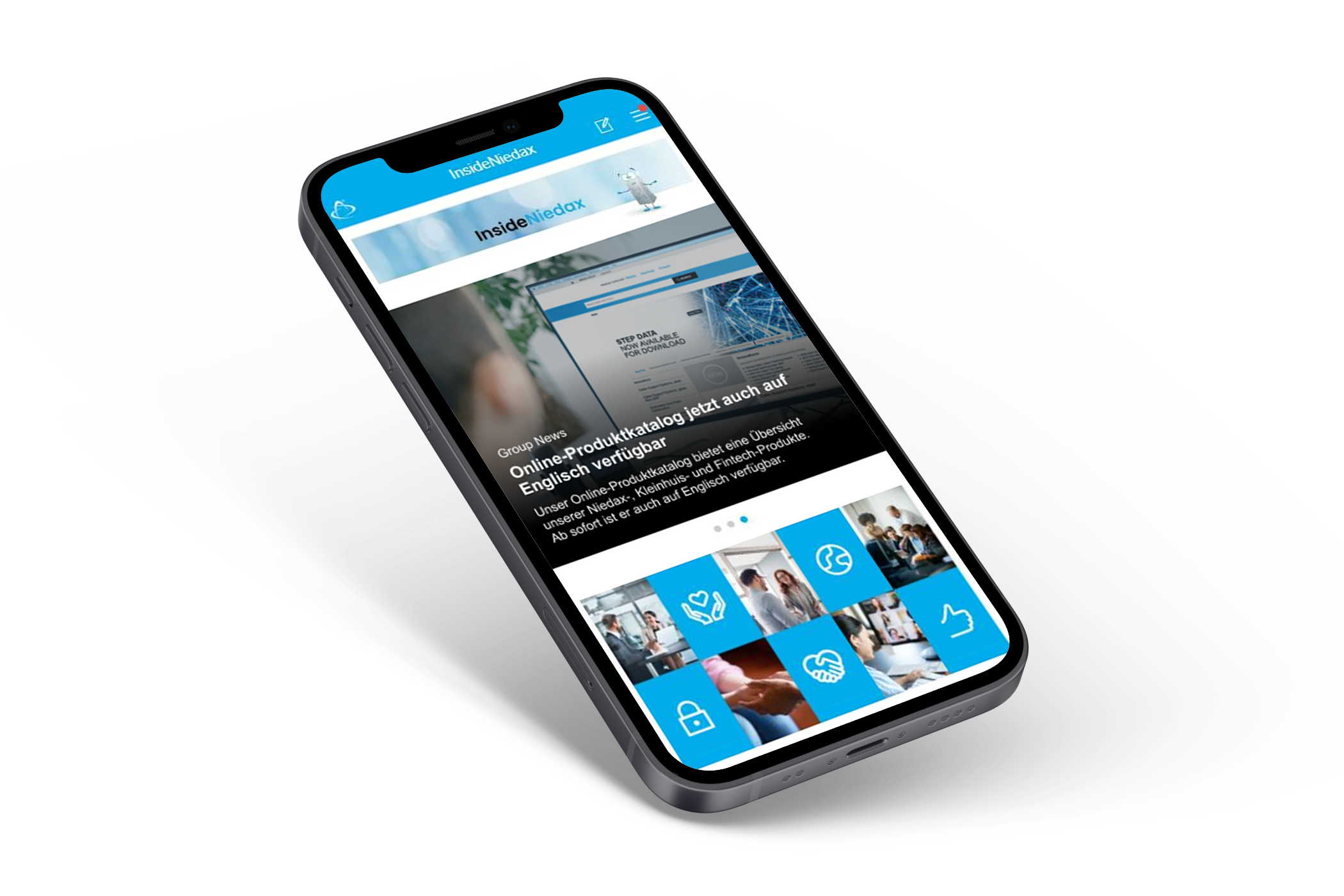 The result
The company's first central communication platform has been named "InsideNiedax" and allows the international Niedax Group to grow closer together. The new employee app, which can be played out on mobile devices as well as desktop workstations, has been successfully adopted by employees. The previous problem of non-desk workers not being accessible has thus been resolved. Over 70 percent of registered users actively surf the system. The digital platform promotes the efficient organization of internal processes as well as communication and thus promotes the growth of the Niedax Group.
Why Staffbase?
The Staffbase employee app can be used for specific user groups. It provides an effective basis for digital collaboration. This created more reach as well as a company-wide flow of information - in the customer's corporate design.
As the new digital unit of the Niedax Group, we are already working with SUNZINET on many projects. We are very pleased that we were able to build our internal communication platform InsideNiedax based on Staffbase together with SUNZINET and look forward to being able to realize our internal communication projects together with SUNZINET in the future as well.

Anne Dimarakis

Kommunikationsmanagerin