This is a hidden post summary. It displays in the editor only.*
App for career guidance for 5.1 million students
Services

Brand Strategy

UX & Product Design

Mobile App Development

Technology

Go/Golang

Vue.js

MinIO

Keycloak

KPI

Developed for 5.1 Million Users

Project Realized Year

2022
Berufswahlpass becomes berufswahlapp
Since 2018, a team of scientists and experts has been working on the digitization of the career choice passport to support students in identifying suitable professions. SUNZINET came on board in 2020 as a digitization partner to transform the aging analog catalog ("Berufswahlpass") into a mobile app, the ("berufswahlapp").

Federal Minister of Education and Research Bettina Stark-Watzinger on the berufswahlapp:
Addressing Strategy, Scaling, & Stakeholder Alignment Challenges
We faced several challenges in the realization of berufswahlapp:
A motivating and binding brand & communication strategy had to be developed.
The app had to be scalable to up to 5.1 million users.
A nationwide project, with stakeholders from politics, science and the youth of the country, had to be well structured.
Challenge accepted!
Deploying Gamification
for Optimal App Adoption & Engagement
Our goal was to find a solution where we could balance the expectations of the different stakeholders and achieve the best possible results for students and teachers.
Our strategy: test, test, test.
Gamification and the latest design trends were used to gain attention and increase adoption. Technologies such as Go/Golang, Vue.js, domain-cut Self-Contained Systems, MinIO, and Keycloak were used in app development to ensure high scalability and user experience for students.
Elevating Nationwide Learning:
A Customized Student-Centric App


The mobile app has been precisely tailored to the needs of students at all relevant grade levels
The berufswahlapp guarantees pedagogically valuable material and an ad-free, individualized learning experience with its finger on the pulse.
The app guarantees data protection and offers an inclusive user experience
The berufswahlapp was launched in eight states in the summer of 2022
Six other states are also showing great interest in launching the app.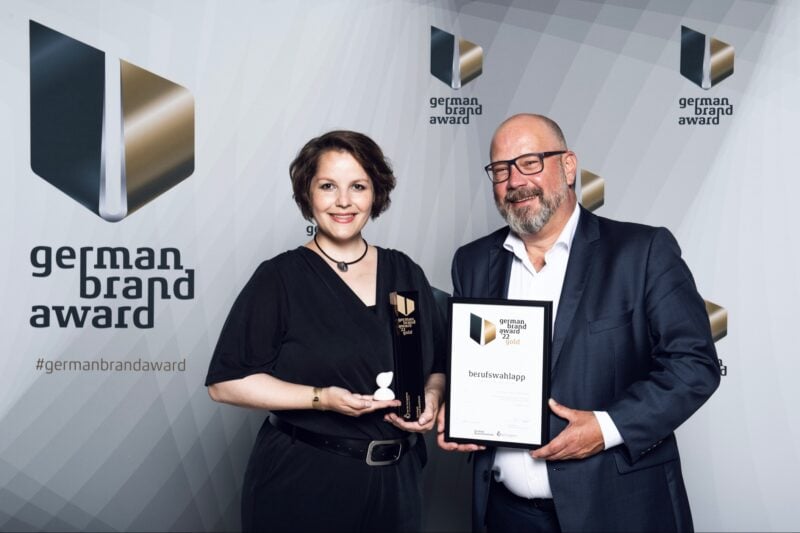 The app was awarded with the German Brand Award GOLD in the category "Excellence in Brand Strategy and Creation / Brand Communication - Web and Mobile".